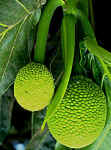 Breadfruit is a very common fruit in the Caribbean, the breadfruit tree comes from the mulberry family which is all related to the chataigne tree and jackfruit tree. It can grow to heights well beyond 85ft. It is native to Malay peninsula and grows torrential along the South East Asian countries, Polynesian states and it was brought to the Caribbean during the colony to feed the African slaves; each tree produce around 200 or more fruits per season.
Here in Trinidad you can find the Breadfruit tree all over the places. This fruit is prepared in many different ways, but the most popular dish made with this fruit is Oil Down, the funny thing about this dish is that there is no middle ground, you love it or you hate it. Click the link for more information on this recipe. Other ways to prepare breadfruit are steamed, fried and baked.
When I was in Venezuela I tasted for first time Breadfruit, we call it Pan de Ano o Pan de Palo (in Spanish). My aunt Hilda have a tree in her house backyard, that was many years ago, at that time I had never seen that tree or fruit. My aunt fried the breadfruit and gave it us to try. I eat it, I remember that was like eating fried sweet potato.This fruit is very rare in Venezuela and it is not part of our common diet.
I was reading the Saturday Express Newspaper (5th March, 2011) from Trinidad & Tobago and there was an article about breadfruit. In a interview with Chef Jason Peru, a lecture at the Trinidad & Tobago Hospitality and Tourism Institute, was talking about the versatility of the breadfruit and presented a dessert made with breadfruit. I had never heard about this!! so I decided to bring this recipe to my blog.
BREADFRUIT CHOCOLATE TRUFFLE
1 Cup breadfruit (medium cubed)
2-1/2 cups water
1 tsp vanilla essence

3 tbsp rose water

6 tbsp cherry brandy
1/4 tsp cinnamon powder

1 tbsp corn syrup
1/2 cup brown sugar
Coating
12 oz sweet chocolate

3 tbsp toasted chopped peanuts
METHOD:
Please all the ingredients for the truffle into a small deep pan and mix to distribuite throughtout the water. Add the chopped breadfruit and bring to a boil then simmer. Cook covered for about 20 minutes, on a low heat until the breadfruit is cook through, ensuring not to over boil the breadfruit. it should be soft, tender but still slightly sticky.
remove from heat, strain. Then discard liquids and crush the breadfruits until smooth, removing any strands that may be present. Place crushed breadfruit into a bowl and refrigerate until cold.
Meanwhile,melt the chocolate over a double boiler (a bowl with the chocolate inside over a pot of boiling water) and ensure the melted chocolate is smooth and semi-runny. Remove from heat and allow the chocolate to come down to room temperature.
Take breadfruit and make small 1 oz size balls by rolling the mixture in your hand.-some cocoa powder dusted on your hands will prevent sticky hands.
Take balls and gently roll into the cool chocolate mixture useing a fork.
The balls should quickly firm up due to their coolness.
Then roll them into the chopped peanut. Please on a sheet line with parchment and place in the chiller for 2 hours.
Serve as a snack or as a plated dessert with a decorative fruit sauce.
Good Eating!!!
See you in our new post.
Karina
4V88VMXPQC